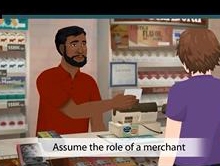 More than 1,000 retail store owners, managers and clerks across Connecticut have accessed an interactive merchant training focused on the prevention of tobacco sales to minors. Launched in early 2014, "Tobacco Sales: Do the Right Thing" teaches front-line retail staff about the legal responsibilities and liabilities of selling tobacco and now electronic cigarettes in Connecticut. Learners interact with customers and practice strategies on asking for and properly checking identification, dealing with angry customers, refusing the sale of single cigarettes, coping with peer pressure, responsible electronic cigarette sales and more. All Connecticut tobacco retailers and their staff are encouraged to take the training annually. Under Connecticut General Statute §12-295a(c) retailers who have sold tobacco to a person under 18 as a 1st time violation are required to take training in lieu of a costly fine.
"Tobacco Sales: Do the Right Thing" is a product of the Connecticut Tobacco Merchant and Community Education Initiative administered by Wheeler Clinic's Connecticut Center for Prevention, Wellness and Recovery. The Tobacco Merchant & Community Education Steering Committee (TMCE) established under this initiative guides the statewide tobacco prevention community services campaign resulting in the most effective campaign materials and activities.
The steering committee has representatives from the CT Department of Mental Health and Addiction Services, the CT Department of Public Health, tobacco merchants, Regional Action Councils and community coalitions. These representatives served as Subject Matter Experts (SMEs) and worked closely with the consultant, Kognito, during the development and production phase of the online training.
The training is made possible by the State of Connecticut Department of Mental Health and Addiction Services Tobacco Prevention and Enforcement Program and is available at www.CTtobaccotraining.com.
---
Comments: