Health and Wellness Observances
Health observances and other special events help raise awareness and offer opportunities to learn more about key issues in substance use prevention and recovery, as well as mental health and wellness. Explore the information below and spread the word about the observances. If you'd like us to share your training or event on this web page or through our Prevention Listserv, Contact Us.
---
---
National Recovery Month
National Recovery Month is an observance held every September to educate Americans that substance use treatment and mental health services can enable those with mental and substance use disorders to live healthy and rewarding lives. Now in its 31st year, Recovery Month celebrates the gains made by those living in recovery.


Events and Trainings
---
National Suicide Prevention Month
All month, mental health advocates, prevention organizations, survivors, allies, and community members unite to promote suicide prevention awareness. #BeThe1To is the National Suicide Prevention Lifeline's message for National Suicide Prevention Month and beyond, which helps spread the word about actions we can all take to prevent suicide. The Lifeline network and its partners are working to change the conversation from suicide to suicide prevention, to actions that can promote healing, help and give hope.


Events and Trainings

---

FASD Awareness Month
Alcohol use during pregnancy can cause fetal alcohol spectrum disorders, which are physical, behavioral, and intellectual disabilities that last a lifetime. Fetal Alcohol Spectrum Disorders (FASD) Awareness Month serves as a reminder that there is no "safe" level of drinking while pregnant.



Events and Trainings

---
National Substance Abuse Prevention Month
National Substance Abuse Prevention Month was first declared in 2011. Since then, October has been a time to highlight the vital role of substance abuse prevention in both individual and community health has, to remember those who have lost their lives to substance abuse, to acknowledge those in recovery, as well as children, parents, family, and friends supporting them.


Events and Trainings

---

National Domestic Violence Awareness Month
According to The National Resource Center on Domestic Violence, domestic violence, also known as intimate partner violence, is a serious and widespread problem. In the United States, 1 in 4 women and 1 in 9 men experience contact sexual violence, physical violence, and/or stalking by an intimate partner in their lifetime and report negative impacts such as injury, fear, concern for safety, and needing services. The Domestic Violence Awareness Project (DVAP) developed a unified message around #1Thing. Change can start with only #1Thing.


Events and Trainings
---

Bullying Prevention Month
National Bullying Prevention Month is a campaign founded in 2006 by PACER's National Bullying Prevention Center. The campaign is held during the month of October and connects communities around the world to help prevent bullying. This year, a worldwide pandemic and a growing movement for racial equity and social justice have highlighted the need to unite communities for a better future. It is more important than ever to join together in creating a world that is kinder, more accepting, and more inclusive.

Events and Trainings
---

LGBTQ+ History Month
LGBTQ History Month is a month-long celebration that occurs in October to observe lesbian, gay, bisexual, and transgender history. It also honors the history of gay rights. National Coming Out Day is also part of LGBTQ History Month.


Events and Trainings

National Depression Screening Day – October 8
National Depression Screening Day is observed annually as part of Mental Illness Awareness Week, during the first week of October. Depression is a common, treatable illness, and Depression screenings should be a routine part of healthcare.
Events and Trainings - TBA
---
Mental Illness Awareness Week - October 4-10
Each year, during the first week of October, NAMI and participants across the country raise awareness of mental illness. The theme of this year's Mental Illness Awareness Week is, "What People with Mental Illness Want You to Know." Throughout the week, NAMI will be raising the voices of those with lived experience to talk about some of the conditions and symptoms that are most misunderstood.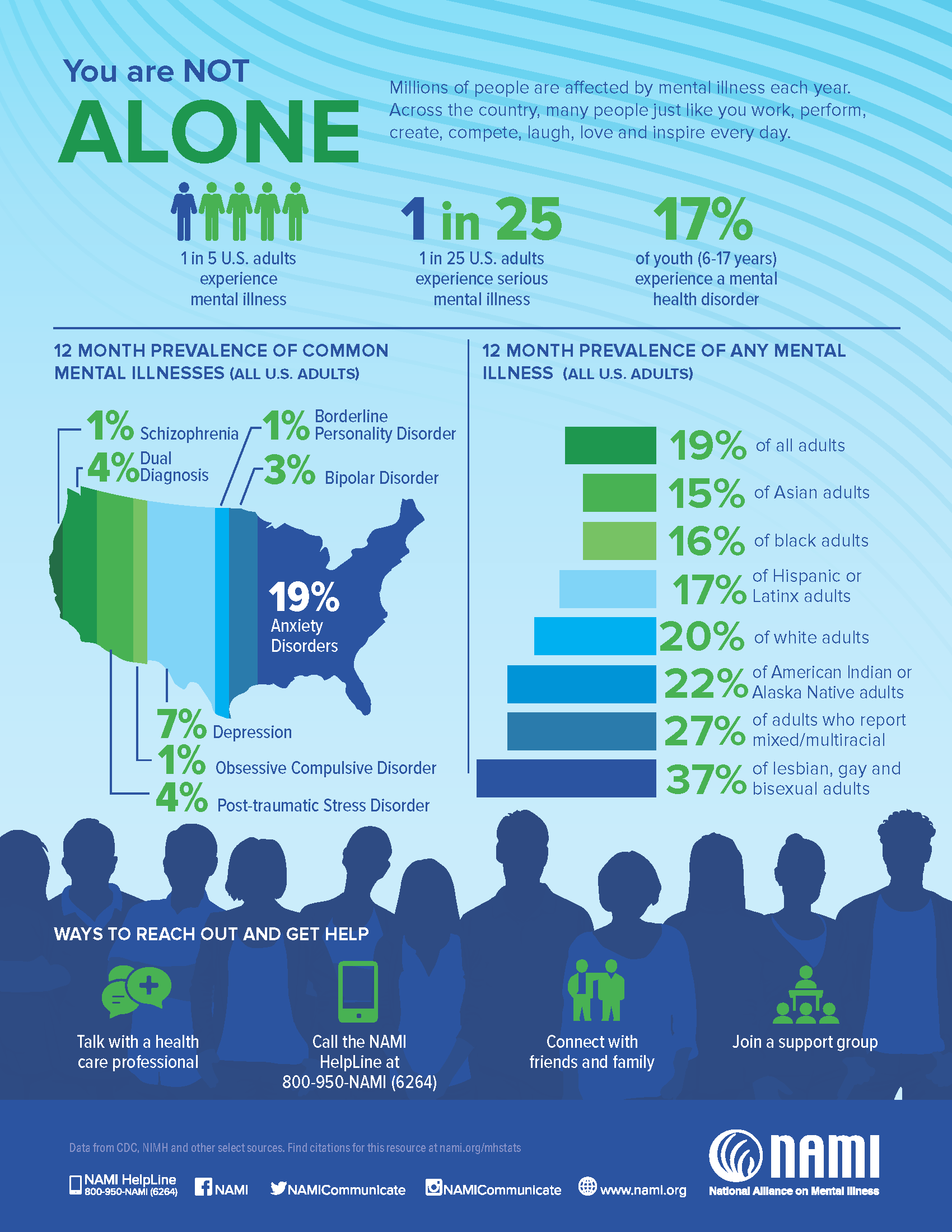 Events and Trainings - TBA
---
World Mental Health Day - October 10
World Mental Health Day is observed on 10 October every year, with the overall objective of raising awareness of mental health issues around the world and mobilizing efforts in support of mental health. The Day provides an opportunity for all stakeholders working on mental health issues to talk about their work, and what more needs to be done to make mental health care a reality for people worldwide.
Events & Trainings
---
National Prescription Drug Take Back Day
The National Prescription Drug Take Back Day aims to provide a safe, convenient, and responsible means of disposing of prescription drugs, while also educating the general public about the potential for abuse of medications.

Events

---
Red Ribbon Week – October 23-31
Red Ribbon Week was started after the death of Drug Enforcement Administration (DEA) Special Agent Enrique "Kiki" Camarena, who was murdered by drug traffickers in 1985. This week offers a great opportunity for parents, teachers, educators, and community organizations to raise awareness about substance abuse.

Events and Trainings
---
Great American Smokeout - November 19th
The Great American Smokeout is observed on the third Thursday of November to educate people about the benefits of quitting tobacco, and encouraging them to make a quit plan. The Connecticut Quitline at
1-800-QUIT NOW (1-800-784-8669) has professionally trained Quit Coaches available to prepare participants for their quit date that includes helping them to design an individualized quit plan. Many Quit Coaches are former smokers themselves. There is also online registration and more information available at CommitToQuitCT.com, along with a texting program to help stay on track.

Events and Trainings - TBA

---

Transgender Day of Remembrance
Transgender Day of Remembrance (TDOR) is an annual observance on November 20 that honors the memory of the transgender people whose lives were lost in acts of anti-transgender violence.

Events and Trainings - TBA

---

International Survivors of Suicide Loss Day - November 21
International Survivors of Suicide Loss Day is an event in which survivors of suicide loss come together to find connection, understanding, and hope through their shared experience.


Events and Trainings
World AIDS Day - December 1
World AIDS Day brings together people from around the world to raise awareness about HIV/AIDS and demonstrate international solidarity in the face of the pandemic. The day is an opportunity for public and private partners to spread awareness about the status of the pandemic and encourage progress in HIV/AIDS prevention, treatment and care around the world.

Events and Trainings - TBA
---
National Impaired Driving Prevention Month
National Impaired Driving Month is observed in December to help underscore the public's commitment to preventing impaired driving and promoting the use of designated drivers and sober ride programs.

Events and Trainings - TBA