Harm Reduction
Harm reduction is an approach that emphasizes engaging directly with people who use drugs to prevent overdose and infectious disease transmission, improve the physical, mental, and social wellbeing of those served, and offer low-threshold options for accessing substance use disorder treatment and other health care services.
A comprehensive prevention strategy, harm reduction is part of the continuum of care. Harm reduction approaches have proven to prevent death, injury, disease, overdose, and substance misuse. Harm reduction is effective in addressing the public health epidemic involving substance use as well as infectious disease and other harms associated with drug use. Specifically, harm reduction services can:
Connect individuals to overdose education, counseling, and referral to treatment for infectious diseases and substance use disorders.

Distribute opioid overdose reversal medications (e.g., naloxone) to individuals at risk of overdose, or to those who might respond to an overdose.

Lessen harms associated with drug use and related behaviors that increase the risk of infectious diseases, including HIV, viral hepatitis, and bacterial and fungal infections.

Reduce infectious disease transmission among people who use drugs, including those who inject drugs by equipping them with accurate information and facilitating referral to resources.

Reduce overdose deaths, promote linkages to care, facilitate co-location of services as part of a comprehensive, integrated approach.

Reduce stigma associated with substance use and co-occurring disorders

Promote a philosophy of hope and healing by utilizing those with lived experience of recovery in the management of harm reduction services, and connecting those who have expressed interest to treatment, peer support workers and other recovery support services.
Source: SAMHSA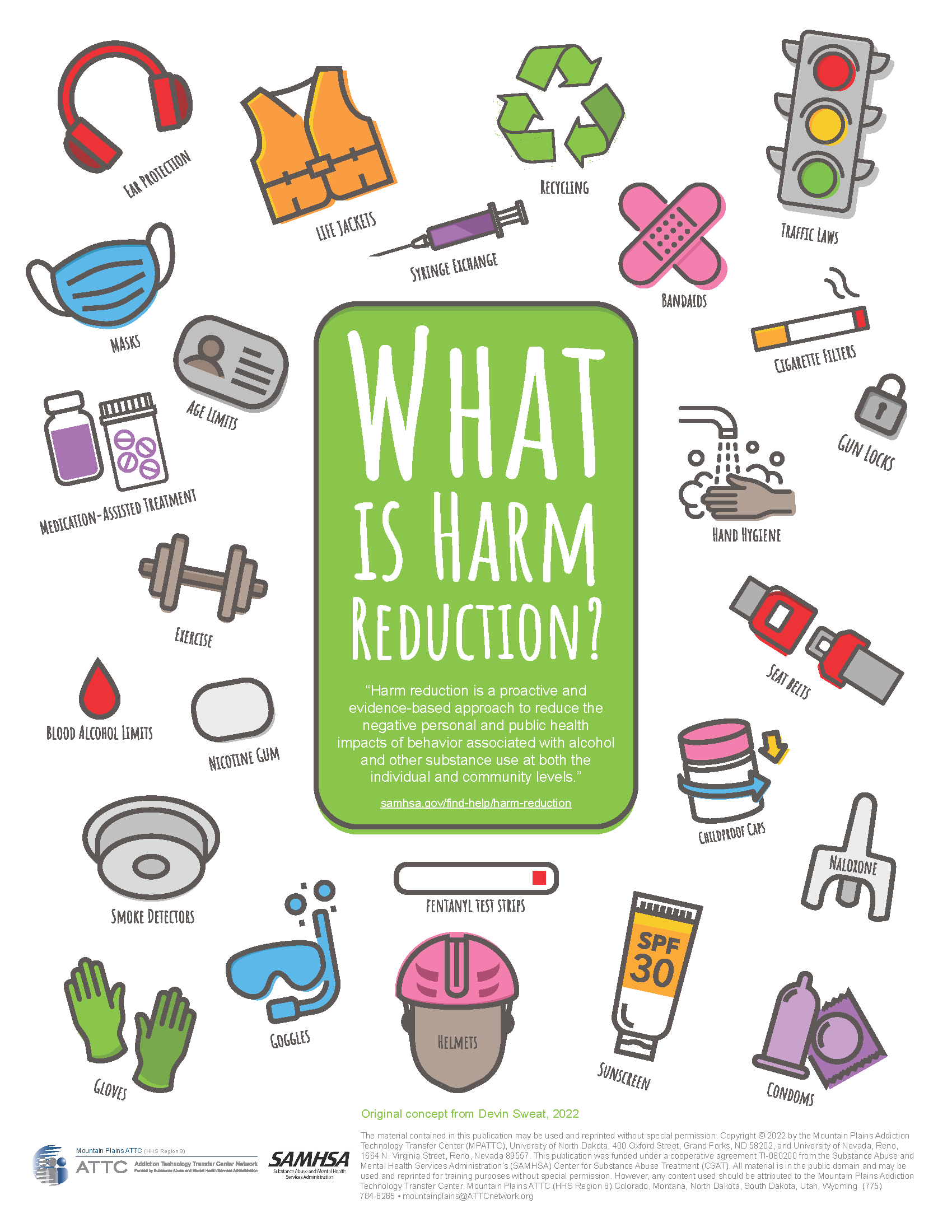 Statewide Resources
Videos/Documentaries
Warning: these videos address sensitive issues around drug misuse and may show people using drugs.
Love in the Time of Fentanyl
From Independent Lens (PBS), this documentary looks at The Overdose Prevention Society in Vancouver BC - a supervised drug consumption site that employs active and former drug users. Its staff and volunteers do whatever it takes to save lives and give hope to a marginalized community in this intimate documentary that looks beyond the stigma of people who use fentanyl and other drugs. Click here to watch it online for free.


---
---