International Overdose Awareness Day
Thousands of people die each year from drug overdose. They come from all walks of life. Connecticut will join in the global observance of International Overdose Awareness Day on August 31st to raise awareness of overdose and reduce the stigma associated with drug-related deaths. It also acknowledges the grief felt by family members and friends of those individuals who have died from a drug overdose. A number of vigils, presentations, programs, and other events have been planned statewide in conjunction with International Overdose Awareness Day. Please see below for a list of events. Click on the images for additional event information:
Events at the State Capitol:
Join us at the State Capitol - 210 Capitol Ave, Hartford - in observance of International Overdose Awareness Day on August 31 at 12pm and learn how you can help address overdoses in Connecticut. Stand with state leaders, friends and family members. Advocate for resources. Work to decrease stigma. Honor those we lost. And help raise awareness to #EndOverdose

---
Today I Matter memorial poster project will be holding a candlelight vigil and a reading of names of some of those lost in Connecticut to substance use. Joined by Team Sharing, CT and the Manchester HOPE Initiative.
At the Connecticut State Capital building front lawn in Hartford, CT. Starts at 7 PM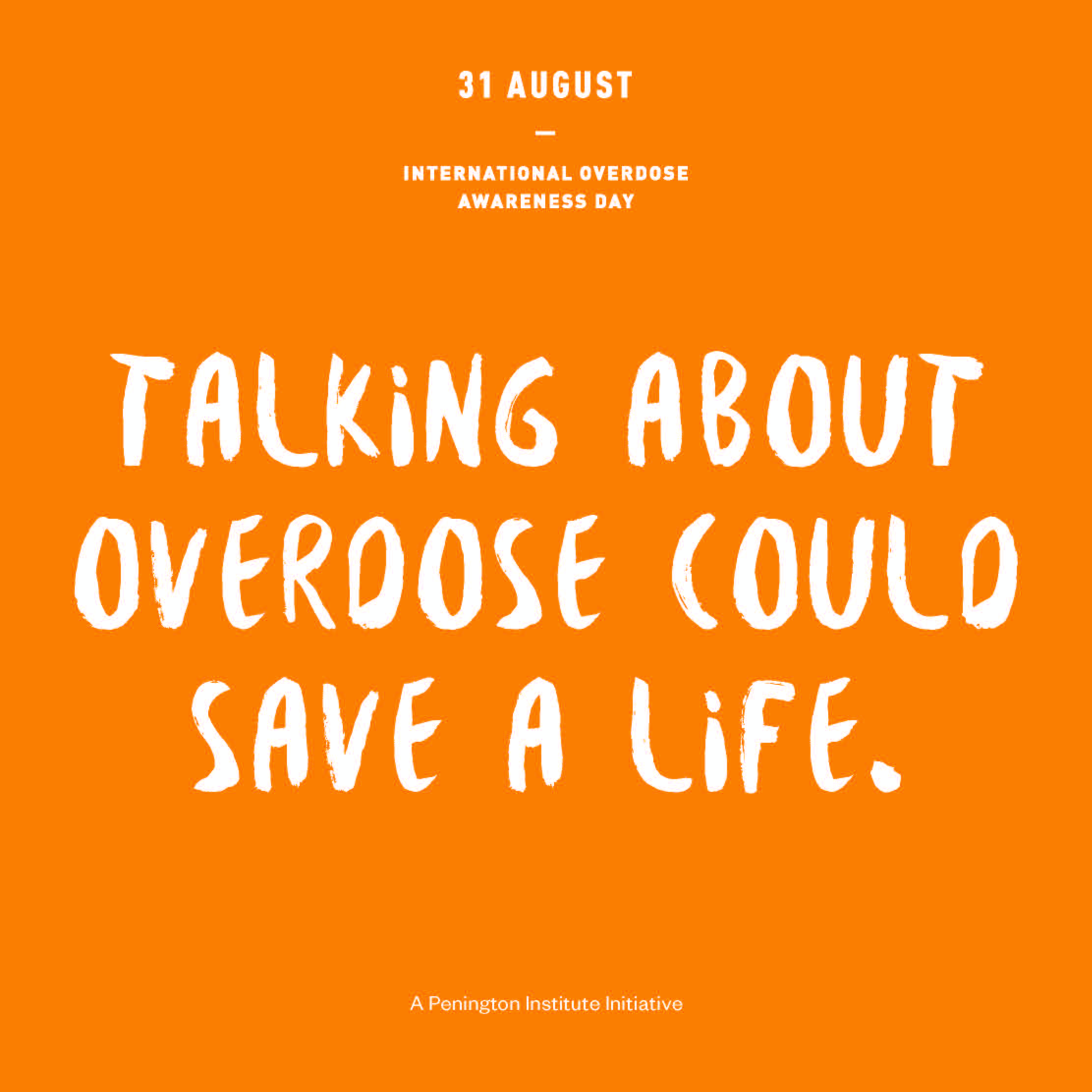 Events in Connecticut Cities and Towns:
The HERO Project and Bethel United Methodist Church's Annual International Overdose Awareness Day Candlelight Vigil and Fundraiser for the Bethel Community Food Pantry. The event takes place on Wednesday, August 31st from 6:30-8:00PM at Bethel United Methodist Church, 141 Greenwood Ave, Bethel, CT 06801
This event will include music and glowing luminarias with names of loved ones lost.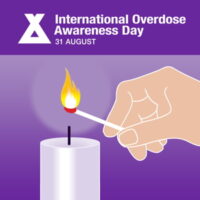 ---
Join the Fairfield CARES Community Coalition and the Fairfield Health Department at the Sherman Town Green on Wednesday, August 31st at 7pm for the 5th Annual Fairfield International Overdose Awareness Day Vigil.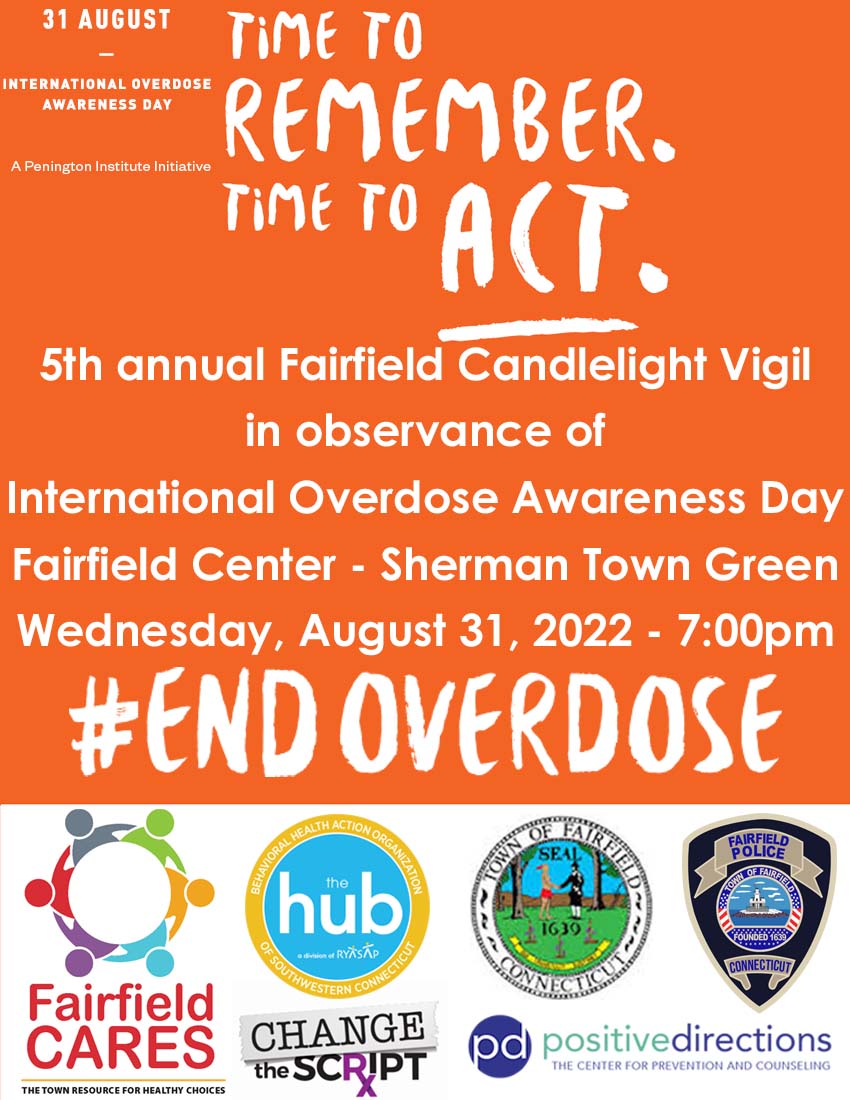 ---
The Connecticut Harm Reduction Alliance (CTHRA) will host Hartford's Overdose Awareness Day Resource Fair from 10am to 3pm at the park across the street from their Drop-in Center at 557 Albany Ave in Hartford. Feel free to stop by our Drop-in Center first. The event will provide community resources, including safe supplies, naloxone, access to treatment and more with various agencies as we further educate, support, and remember those that we have lost but will never forget.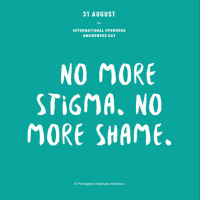 ---
Join the Quinnipiack Valley Health District, Cornell Scott Hill Health Center, the New Haven Health Department, and others at the New Haven Green from 12 PM to 4PM on August 31 (rain date: September 7) for The Art of Hope, Health and Healing. The Overdose Awareness Day event will feature overdose education, health screenings, free narcan, harm reduction supplies & more.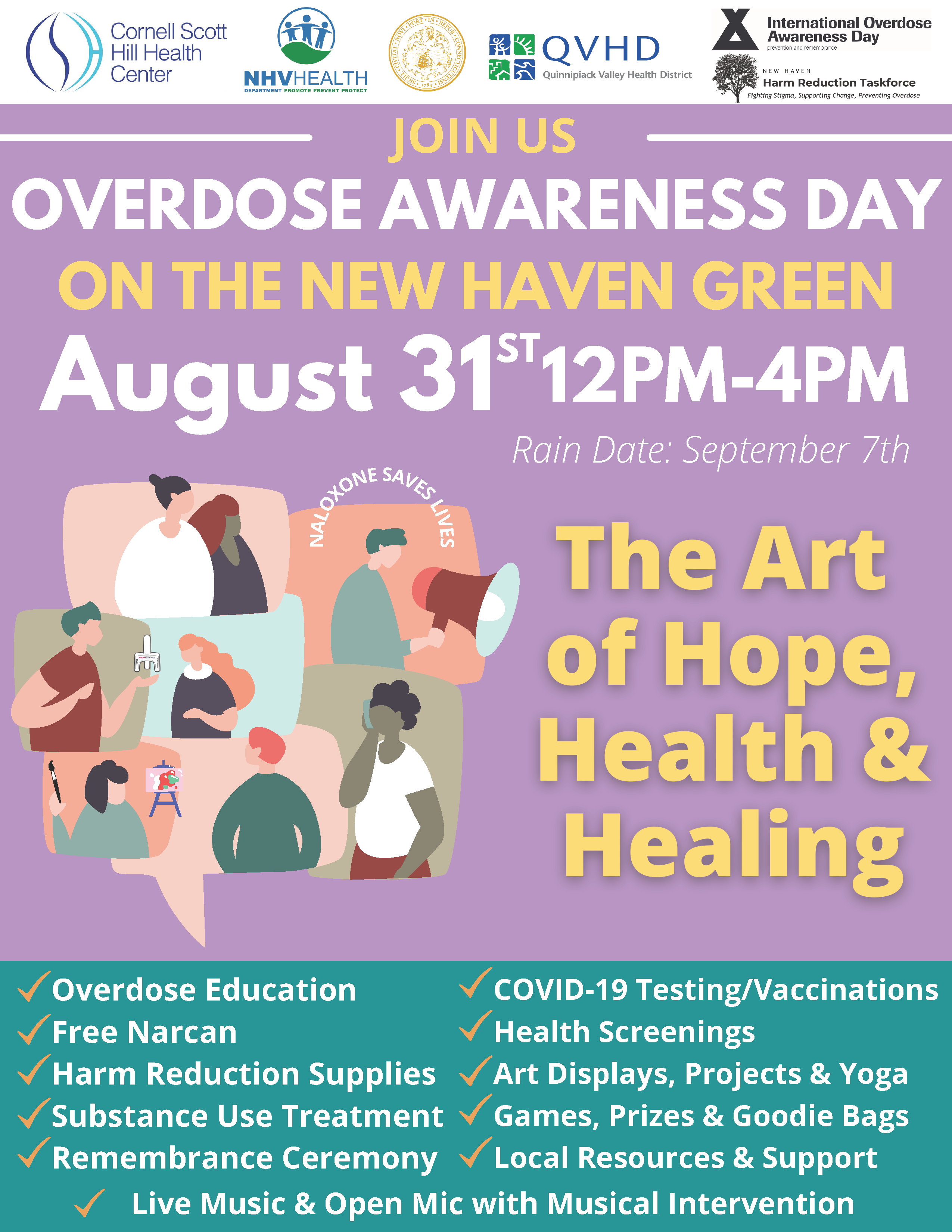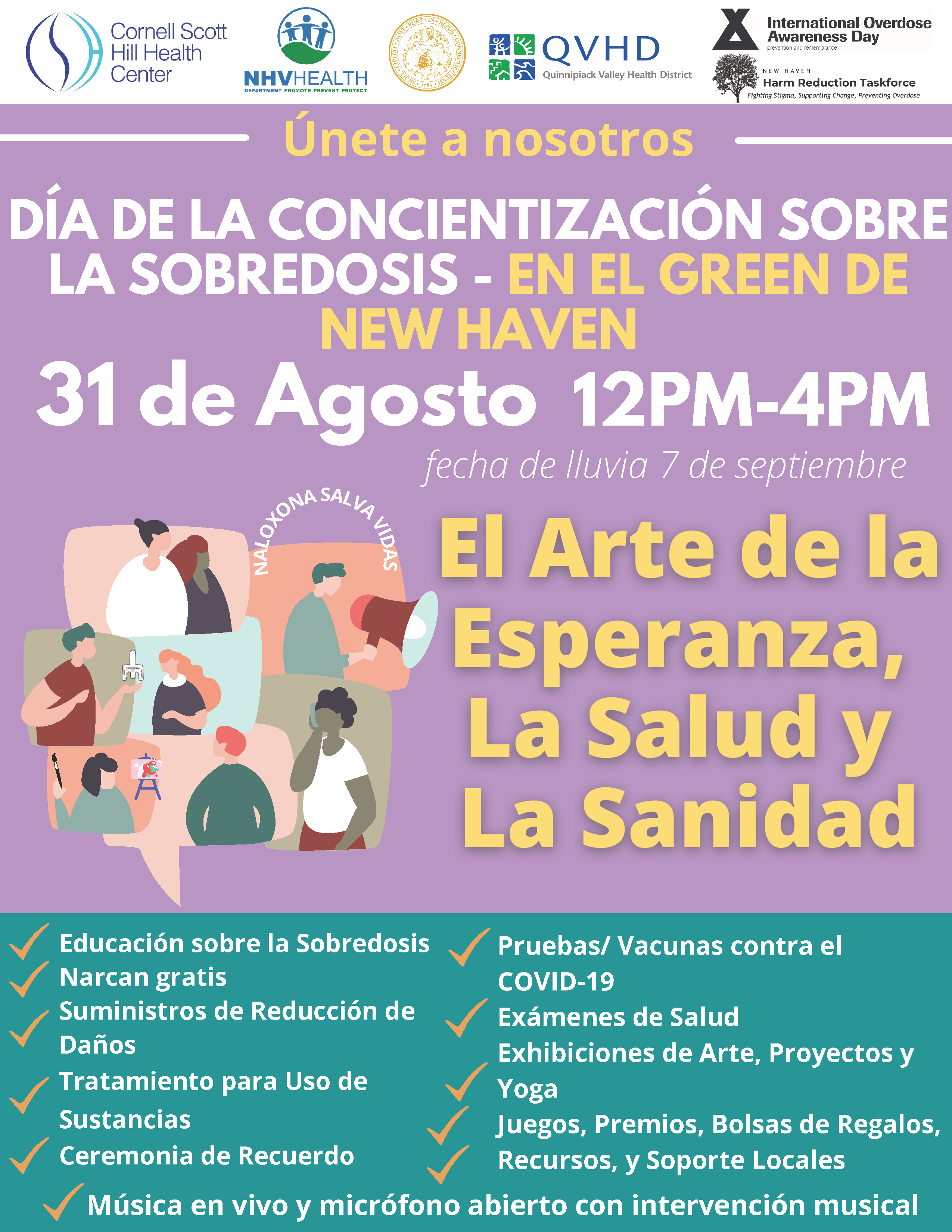 ---
The Litchfield Opiate Task Force is hosting an Overdose Awareness Day Resource Fair and Vigil at Coe Memorial Park in Torrington, CT.
The event will offer local resources and support, followed by speakers and a candlelight vigil to share messages of remembrance, healing, and hope. Narcan will be provided at no cost during the event by local agencies.
Resource Fair from 6:00 - 7:00 pm
Vigil portion from 7:00 - 8:00 pm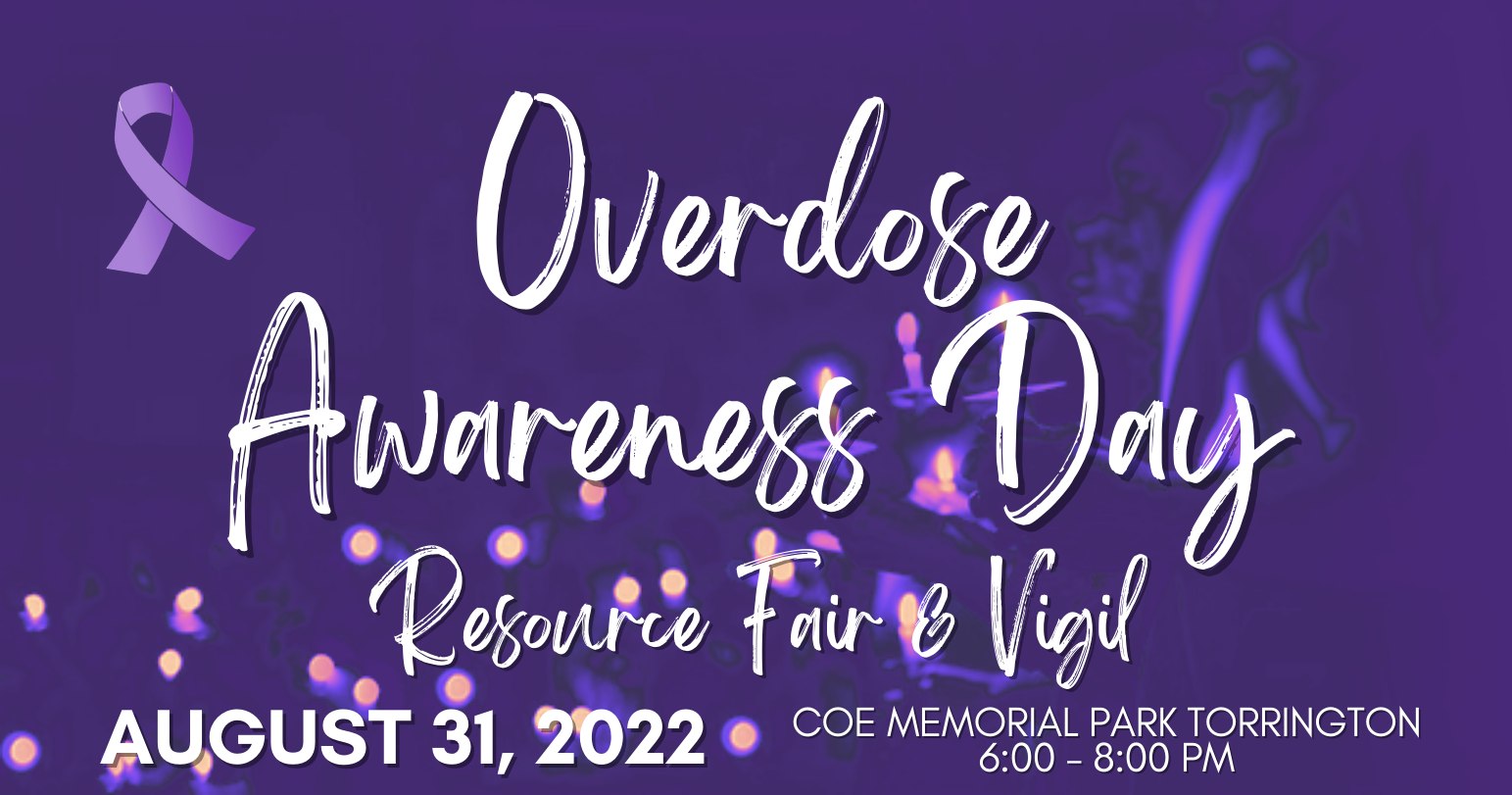 ---
The Town of Westport encourages town employees, businesses and residents to learn more and get a free Narcan(TM) kit at this lunch & learn, provided by Positive Directions - The Center for Prevention and Counseling through the Westport Prevention Coalition. August 31st from 12:30-1:30PM at The Westport Library, 20 Jesup Rd, Westport, CT 06880.
To RSVP, visit www.positivedirections.org/events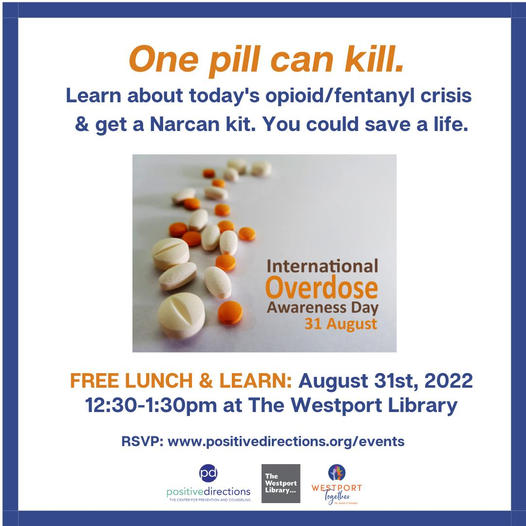 ---
Woodbury-Bethlehem ASAP, First Congregational Church and Litchfield Hills Community Church are hosting the first annual International Overdose Awareness Day Vigil & Food Drive. The event will take place on Wednesday, August 31, 2022 at First Congregational Church, 214 Main St S, Woodbury, CT 06798